27.03.2023, 20:00
KOMPLOT, Place du Conseil 4 Raadsplein
1070 Anderlecht
Komplot is happy to host Double Minutes for their seventh edition with Merzedes Sturm-Lie and Ferre Marnef.
​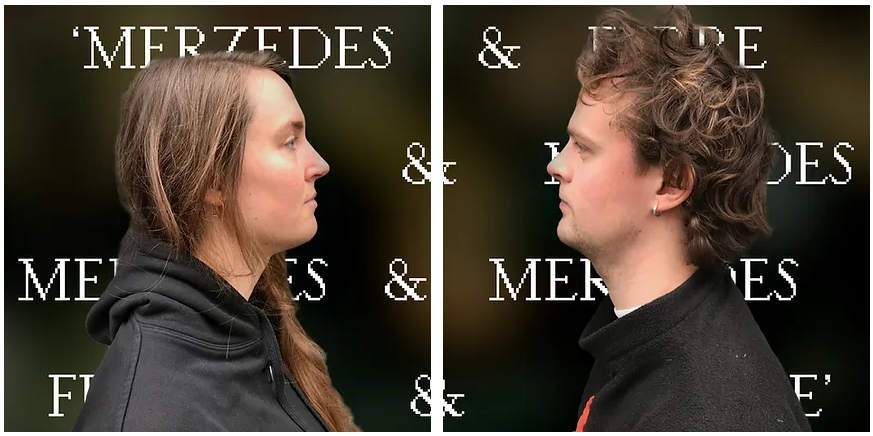 About Double Minutes'practice: "Every month we invite two artists to challenge the format of an artist talk. Rather than discussing the artist's practice, specific works of art and/ or exhibitions we ask each artist to select ten fragments that move them, as a starting point for the dialog. There are no restrictions on the choice of media: film, music, literature, internet, objects, etc. The artists can also experiment with the scenography and performative qualities of the talk itself. We hope to welcome you for an engaging and insightful evening with a focus on the joint experience of personal fragments."
​
Merzedes Sturm-Lie (BE/NO/SE) is a multimedia artist. She uses voice and sound as a temporary passage between worlds, poking at and playing with the blurred lines between emotional affect and reason. ???????? organizes the biannual NONSTOP Performance Festival and is active with two musical projects; Vulkanizer (collab with Lotte Beckwé) and ???????? & The Grind (collab with Raph Absolonne, the newly released album 'Walking in Dark Walls', June 2022).
​
Ferre Marnef is a music-making theatrical graphic designer.
Ferre Marnef is a graphically musical theater maker.
Ferre Marnef is a theatrical designing musician.
He hides beneath himself, Desnor (†) and Sergeant

(Worked with/for De Nooit Moede, Julie Peeters, TOESTAND, Tibaldus, Soldier's Heart, Danaï Anesiadou, Joris Kritis, Ontroerend Goed, buren, St Lucas Architectuur Brussel, Miet Warlop …)
With the support of Fédération Wallonie Bruxelles, COCOF, VGC and Anderlecht.